News
Below you will find all the latest news, with the most recent first:
December 2017
Karthikeyan's published a research article!
Karthikeyan has co-authored a research article that is published in international medical journal. Click HERE to view the article!
September 2017
On Tuesday 26th September Robert made a grand entrance into the world weighing 8lbs 8oz at 3:45am.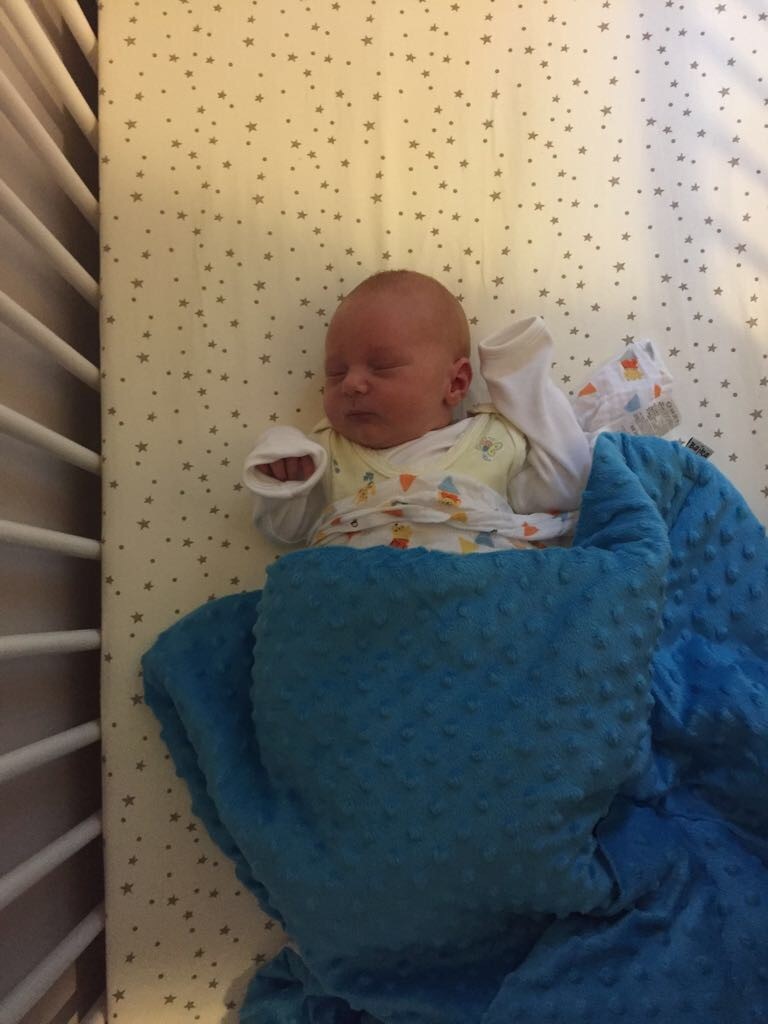 Proud parents Greg and Angelika couldn't be happier.
February 2016
Our Valentine's Day Offer of discounted massage was much appreciated and the vouchers were very popular. We will run the same offer for Mother's Day, which this year falls on 6 March - see our newsletters on the home page.
On 27 February we are marking the International RSI Day by inviting everyone to an Open Day where our physios will help with guidance on workstation design and RSI symptoms. The public can learn for free how to avoid Repetitive Strain Injuries, get to know how to adjust office chairs correctly, learn stretches that will combat aches and strains and much, much more!
Last summer we were fortunate to have Ioannis Agathokleous join Team Ealing Physio straight from his private Sports Injury practice in Cyprus. Whilst living in Ealing, he has continued to look after the Cypriot Under 21's National Football Team when they play abroad! It is a lot of short and intense travelling but he loves it. Apart from being an expert on sports related conditions and rehab, he is highly skilled in treatment of all musculoskeletal conditions.
Grzegorz Nowak got married - congratulations Grzegorz! He is in New Zealand right now on honeymoon. We wish them many, many happy years together.
For more information or to book, call now on 020 8847 1887.
Exciting things that have happened at Ealing Physio over the last 6 months!
Many exciting things have happened at Ealing Physio in the last 6 months! As you may have noticed we have upgraded our website to make it more informative and easier to navigate. We are also in the process of creating a new reception area which now includes a water cooler and a brand new reception desk to make it more comfortable and friendly for our patients.
We will be asking for your Twitter address on our new consent forms and will be offering 10% off your next treatment (self paying patients only) if you send a tweet after your initial appointment.
We have since January added a unique service - Ultrasound Guided Steroid Injections. Karthik Krishna, our experienced ESP (Extended Scope Practitioner) and Consultant Physiotherapist, does ultrasound guided injections for both joints and soft tissue for self paying patients. The ultrasound guidance ensures the steroid ends up in the right place and therefore has the desired effect as opposed to 'blind' injections without ultrasound guidance where accuracy and efficiency can be a problem. The benefits of using our practice for injections are manifold - immediate access to injections (NHS has a waiting list), instant effect on pain creating a 'window' allowing physiotherapy rehab, reduces inflammation effectively. Some conditions that respond well to these injections are bursitis, tennis elbow, shoulder impingement, plantar fasciitis as well as joints such as the knee, elbow, fingers and hip. Please note that Karthik does not do spinal injections.
We have recently welcomed Greg Nowak and Satheesh Sankar to our experienced international team. They are both highly skilled and their involvement has added specialist treatment for neurological conditions to Ealing Physio's already comprehensive list of treatments.
For more information or to book, call now on 020 8847 1887.
We offer 20% off cost of sports massage with a physiotherapist two weeks before and after the Ealing Half Marathon on 28 September. That is any sports massages booked between 15 September and 10 October. This offer is open to anyone - you don't have to take part in the race! And if you have a problem, nip it in the bud by seeing us promptly so we can help.
We wish all our runners the very best of luck!
We are delighted that Carl Cachia has recently joined us. View his full profile on 'Our Team' page.
We are delighted that Bryan Yau, an experienced Canadian Physiotherapist has joined us recently. View his full profile on 'Our Team' page.
We are very pleased that Karthik Krishna is returning to be part of our physio team again from Wednesday, 14 August
Good luck to anyone running in the London or other Marathon! Until 4th May we are offering 20% discount on our normal sports massage price. Anyone who books a 30 minute massage with one of our Chartered Physiotherapists during this period can benefit from the reduced price, whether you are running a marathon or not!
Ealing Physiotherapy are pleased to have added lots more information to our 'How we treat' section.
We are delighted Lois Da Costa is increasing her hours and will be working full time at our clinic.
As Ealing hosted its first half marathon this weekend we are offering 20% off our normal sports massage price for the next two weeks. If you ran in the marathon come and have your achy muscles massaged! Don't worry if you haven't taken part, our sports massage offer is open to anyone who comes for a sports massage before 13th October.
Ealing Physiotherapy is delighted to welcome Simon Redstone MCSP who is joining our team of Physiotherapists.
Ealing Physiotherapy is very pleased to welcome our new Physiotherapist Lois Da Costa MCSP.
Ealing Physiotherapy is very pleased to make available our Spring 2012 newsletter. It is available on our Newsletters page.
'New Rehab Room' - We are excited that our new rehabilitation room, which has been in use since October, has been such a success with our patients. The fully equipped rehabilitation area provides ample space to facilitate the rehabilitation programmes that are so important for long-term permanent recovery.
To request an appointment click here.
For more information on the conditions we treat and services we offer, or to book an appointment please call
020 8847 1887 or email us at reception@ealingphysio.co.uk